Rommie Amaro, Founder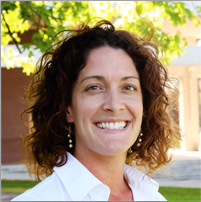 Dr. Rommie Amaro inherited a love of math from her math-teacher father. But after a freshman class at University of Illinois at Urbana-Champaign with chemist Don DeCoste, she found another love in chemistry; to combine her two passions, Dr. Amaro switched to chemical engineering. In 2005, Dr. Amaro took a postdoc at University of California, San Diego, with biochemist Andy McCammon. There, Dr. Amaro studied ways to use computational models for drug discovery. Now in possession of her own lab, Dr. Amaro has widened her research to include a range of drug-discovery targets. While still continuing her previous work, Dr. Amaro also pursues the development of computational models to predict ways to reactivate the apoptosis protein in cancer cells, and the creation of an accurate model of the flu virus to better develop antivirals.
Alumni Staff and Mentors
Nazaré Simas, Associate Director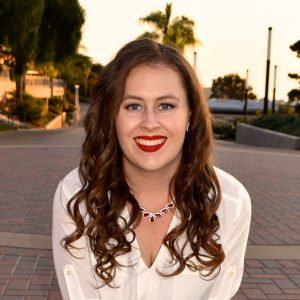 Nazaré Simas graduated from Point Loma Nazarene University majoring in Applied Health Science. She plans to attend graduate school to earn an MS in Genetic Counseling, specializing in pediatric medical genetics.  Nazaré served as an Atlantis Project Pre-Health Intern in Faial, Azores, Portugal during the summer of 2013. Nazaré works part time as a photographer, elementary and middle school tutor, and as a clerk for a local psychologist.  In her spare time she dances with the Portuguese American Dancers, plays clarinet with the Filarmónica União Portuguesa de San Diego, and volunteers with many local ethnic and military organizations.  She's a lifetime member of Girl Scouts and earned her Gold Award in 2011.
Christopher Lee, Science Director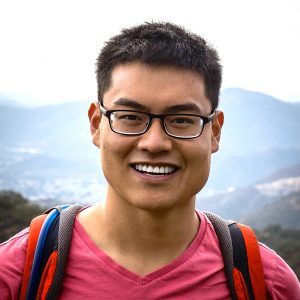 Christopher Lee received a B.Sc. in Chemistry and B.A. in Computer Science from the University of Virginia (UVA) in 2011. He also received a M.Sc. degree in Chemistry from UVA in 2013, under the supervision of Professors Linda Columbus and Cameron Mura, studying enzyme kinetics. He is currently a Ph.D. student in the labs of Rommie Amaro and J. Andrew McCammon. His research is focused on diffusional processes, membrane permeability and building models of sub-cellular electron tomographic data.
Jamie Schiffer, Science and Mentorship Director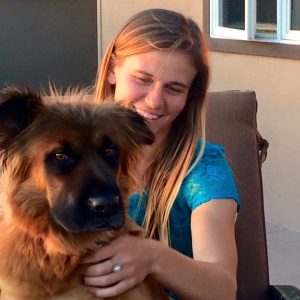 Jamie received a B.S. in biochemistry and a minor in mathematics and biology from Boston University while also playing Division I soccer. In her free time, Jamie likes to do the yoga, hike, cook, keep up with the latest teaching methodologies and spend time with friends, family and her dog, Juno. Jamie's scientific interests encompass defining how the atoms of a protein dance through time, and how this dance confers function to various proteins. She is mostly interested in large multi-protein systems, but is also fascinated with long time scale dynamics of well-studied protein systems. Her dream is to work at a Cal State where she can mentor undergraduates in scientific research and teach.
Sasha Heyneman, Education and Communications Director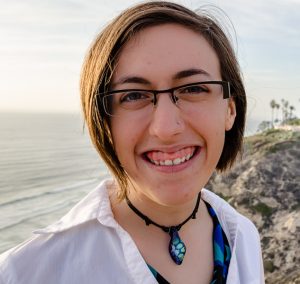 Alexandra "Sasha" Heyneman's curiosity in science and mathematics guided her to obtain a B.S. in Chemistry from the University of Montana in 2014. In the summer 2013, Sasha became an alumna of the Amaro Lab's BioChemCoRe program. BioChemCoRe's introduction created a lasting impression, uprooting this Idahoan to sunny SoCal. During her 1st year as a graduate student, she joined Dr. Amaro's lab with intent to develop biochemical software, simulate interesting biophysical systems, and conduct great research. Sasha enjoys learning, teaching, snowboarding, puzzles, the Argentine tango, scuba diving, and making lists.
Mentors
Garrett Chan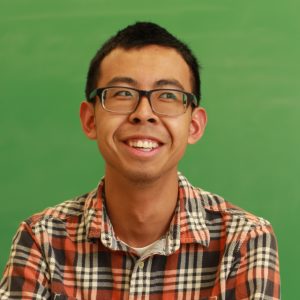 Garrett received his bachelor's in chemical engineering from UCSD in 2015 and is currently a master's student in chemistry. He joined the lab in 2013 as an undergrad in the BioChemCoRe program. The following summer, as part of UCSD's PRIME program, he worked on building scientific workflows for Markov state models at National Taiwan University with Professor Jung-Hsin Lin. Currently, he is helping to finish up a workflow and aims to complete protein modeling and drug discovery projects. Here are three truths and a lie: he plays in a blues/rock band, is taking an evening sommelier course, enjoys cooking for his roommates, and is writing a crime novel.
Benjamin Jagger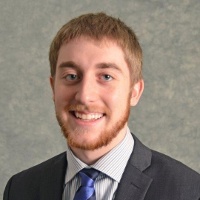 Ben received his B.S in chemistry from Duquesne University in 2015. He did his undergraduate research under the supervision of Dr. Ralph Wheeler and was named a Goldwater Scholar for his research and academic accomplishments. As a member of the Amaro lab, Ben's interests include brownian dynamics, molecular dynamics and milestoning. He is also interested in the development of new computational tools, particularly those that bridge multiple scales. When he's not doing science, Ben is an avid fencer, where he has a national rating and is also a referee and coach.
Sarah Kochanek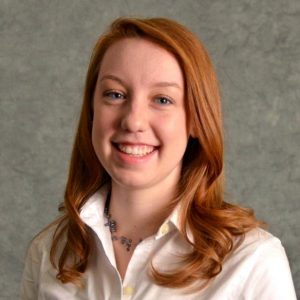 Sarah graduated from Duquesne University in May 2015 with a B.S. in chemistry and a minor in mathematics. At Duquesne, Sarah worked in the lab of Dr. Jeffrey Evanseck where she conducted quantum mechanics studies of intramolecular hydrogen bonds. In recognition of her academic achievements as well as her research and leadership skills, Sarah was awarded the 2014 Barry M. Goldwater Scholarship. In 2015 Sarah joined the Amaro Lab as a first year graduate student. Her current research interests include drug design and simulation of biologically relevant systems. In her free time, Sarah enjoys do-it-yourself projects, gardening, and visiting local farmers' markets.
Emília Pécora de Barros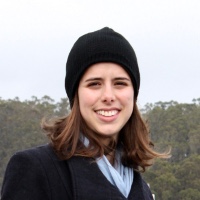 Emília Pécora de Barros earned her undergraduate degree in Chemistry and Master's in Physical Chemistry at the University of Campinas, Brazil. In her junior year she studied abroad at Columbia University with a scholarship from the Brazilian program Science Without Borders. During that time she had her first contact with Computational Chemistry, while participating in the Amaro Lab's first BioChemCoRe program. She fell in love with the field and the group, so much so that she returned to UC San Diego to pursue her PhD. Emília loves traveling, sightseeing, eating and reading. Upon moving to California she bought a U.S. scratch map and hopes to visit all 50 US states by the time she completes her PhD (which may not be very feasible, but she dreams about it anyway!).
Bryn Taylor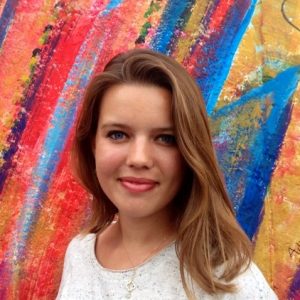 Bryn received her BS in biological sciences at UC San Diego and is currently pursuing her PhD in biomedical sciences, co-advised by both Rommie Amaro and Rob Knight. She uses computational chemistry and biophysics tools to investigate microbial proteomes and elucidate the function of human and environmental microbiomes. When she's not at the computer, Bryn can be found in the ocean, on a bike, eating burritos, camping off a trail somewhere, or searching for the best cheese & cracker combo.
Sophia Hirakis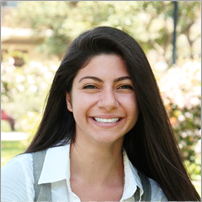 Sophia Hirakis started graduate summer research with the Amaro Lab in of 2012 as part of the CompChemBio program. She joined the lab as a first-year graduate student in 2013. She also works jointly with Dr. Terry Sejnowski at the Salk Institute of Biological Sciences. Before coming to graduate school, Sophie attended Manhattan College in Riverdale, NY. There, she worked in the organic chemistry research lab of Dr. James McCullagh. She received her Bachelors of Science degree in Biochemistry in 2011. Her primary research interests include brownian dynamics simulations, and sub-cellular modeling of calcium dynamics in cardiac myocytes. Her favorite protein is the ryanodine receptor 2 (RyR2). Sophie's hobbies involve singing, dancing, and listening to New York Yankees games on her radio.
Jeffrey Wagner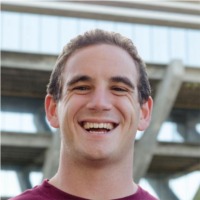 Jeffrey graduated from Claremont McKenna College in 2011 with a Bachelor's degree in Chemistry and Physics. In school, he played NCAA football and was president of the Chemistry Club. Over the summers he worked with Dr. Abhi Jain at JPL to develop an MD simulation package, and after graduation he worked in the Vaidehi Lab at City of Hope on a variety of modelling projects. Jeff started graduate school at UC San Diego and joined the Amaro Lab in 2013. During his graduate studies, Jeff Wagner studied the development of new computer-aided drug design algorithms and their application to the APOBEC3 family of enzymes. He defended in March 2018 and is currently a postdoc with the Drug Design Data Resource, working on the CELPP challenge. His research interests are in drug design and the application of modelling in support of experimental science. Outside of the lab, Jeff enjoys teaching, traveling, reading, and a good beer.
Robert Malmstrom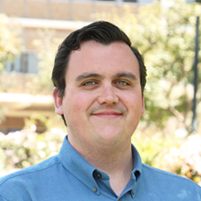 Dr. Robert D. Malmstrom obtained Ph.D. in Biochemistry from the University of Texas Medical Branch, Galveston, and his B.S. in Biochemistry from Brigham Young University, Provo. Dr. Malmstrom's early scientific research covered many fields from insect behavior to toxicology and virology, and provided him with practical experimental foundation to science. In doing his graduate work he discovered a deep interest in computational methods and their applications to biomedical problems; his graduate studies focused on implementing and testing rigorous methods for calculating binding affinities between potential drug candidates and their protein targets. His current postdoctoral research focuses on understanding and mapping the complex conformational ensembles that govern protein function.